Earlier this month we were invited by Cherelle Joseph at Perfectly Planned 4 You to provide bridal looks for their styled shoot at the Andaz hotel and show off some cool London city wedding vibes.
It was the ideal opportunity to take some of the newer pieces of our collection out for a spin.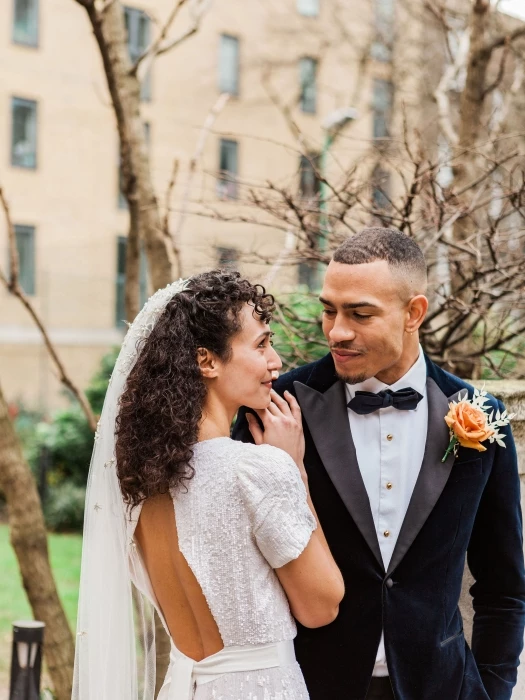 Look 1 was easy daytime elegance, well, daytime if you consider full on sequins to be a neutral, which we absolutely do! The Sequin Finsbury Dress felt like the perfect way to make the most of the cool Liverpool Street setting and the beautiful Andaz Hotel ballroom (and when your Groom's looking this good in gorgeous Sammy Aki velvet, you have to up your game!)
When we moved into our Studio back in March we'd just designed a cute little play on the plain white tee to add to our range of separates. We named it The Finsbury in honour of our new neighbourhood. We really loved the shape and decided to create a fancier sister piece in a super tasty all over sequin fabric. The simple crew neck, short sleeve and column skirt are laid back city vibes but the fun back detail and gorgeous full on sequin fabric make it something really extra special. Although we still jokingly refer to it as our 't-shirt dress'!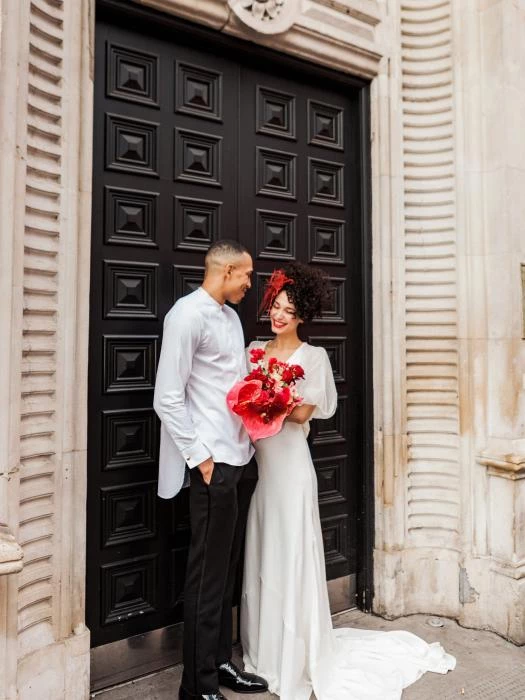 Look 2 was another banger thanks to the gorgeous bouquet and hair florals by Boom Blooms and the most perfect red lip as part of Szilvia Balog's make up look. As well as looking slinky perfection on their own, our slip dresses provide an ideal bias cut base to layer with capes, jackets and tops. The Portofino is the newest and some would argue, fanciest of our slip dresses. Designed in dreamy silk crepe, double strap detail, a low (but bra achievable) back and a killer train, made for wafting down glam hotel steps!
Worn by the gorgeous Syanne, we paired it with the Cirrus Top. Also fresh and new for 2020 the Cirrus Top is bringing big sleeve energy to a wedding day near you. With a bodice in silk taffeta and semi sheer organza sleeves it's fun, modern, traditional and romantic all rolled into one.... and then tied up with a big bow (literally). Adding the Cirrus totally transforms the look which is what we love about all our separates. They can be an easy but really effective way to change up a look and take the same dress from daytime ceremony to nighttime party! Cirriously.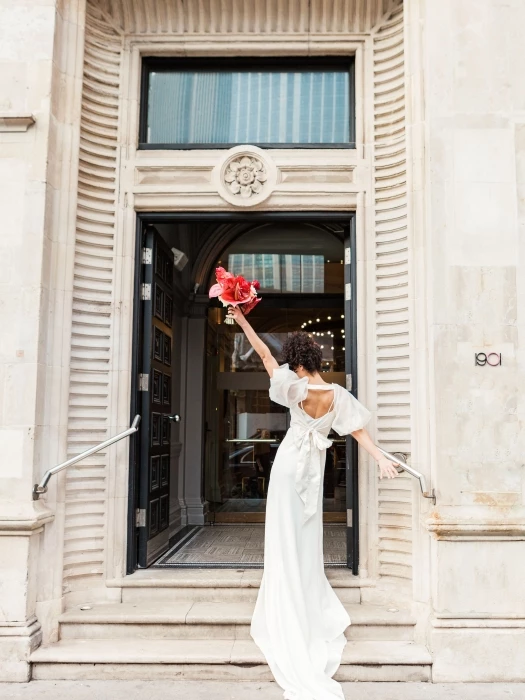 We had such a fun day working alongside really awesome creative collaborators:
Planners & Stylist: @perfectlyplanned4you | Florist & Stylist: @Boom_blooms | Photography: @amandakarenphotography | Videography: @confetti_and_silk_films | Bridal Pieces: @papertolacebridal | Hire items: @yahireltd | Cake: @simons_bakery | Hair: @lovehairbylou | Stationery: @dimitriajordan | Venue: @andazlondon | Makeup: @szilviabalogmua | Suit: @sammyaki | Models: @syanne_p and @kyro.malcolm