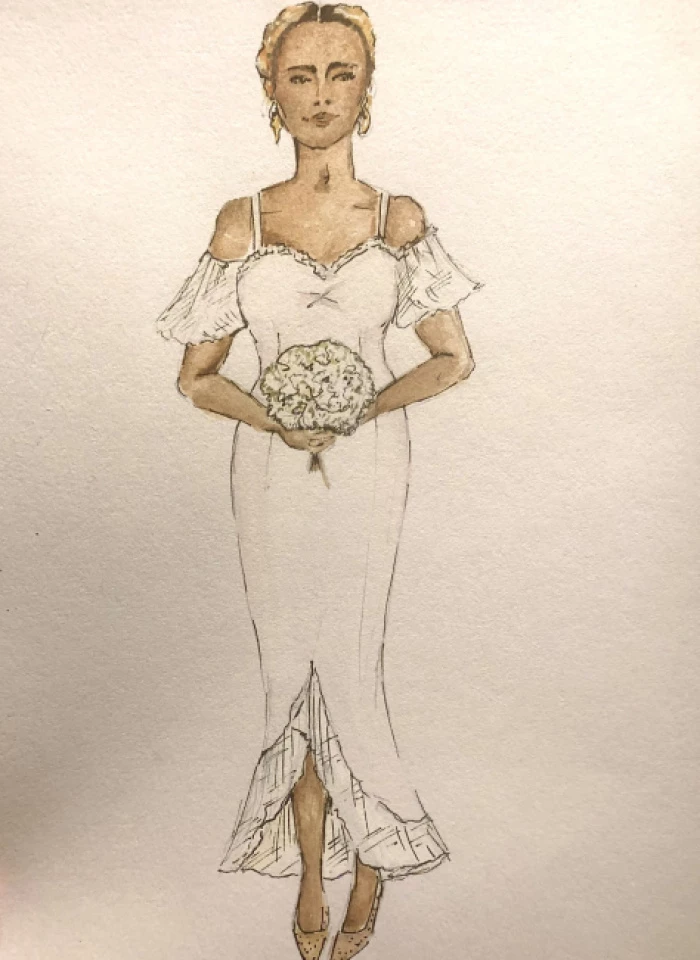 Concept sketch
Last Christmas we had the absolute pleasure of making Bobbie's beautiful wedding dress.
Bobbie came to us with a gorgeous idea for her dress.
She wanted something fitted and elegant, with 1940's wiggle dress vibes that felt modern and fun.
She also loved the idea of introducing some drama with feathers or ruffles and the colour pink.
We toyed with a few variations of the design, settling on a fitted midi length strapless body con shape, with fitted under corset for support.
The dress would be ivory with layers of tulle ruffles at the hem in pink.
Whilst sampling for fabrics we found a gorgeous pale pink woven stretch fabric. It was a really nice weight and stretch to hold the wiggly shape whilst still being comfortable to move in. The pale pink looked absolutely beautiful against Bobbie's skin tone.
We decided to line it with baby pink stretch Duchess satin and swap the tulle colour to ivory.
We balanced the hem ruffles with off the shoulder ruffled 'straps' and a tiny matching frill to frame to sweetheart neckline.
Our fittings with Bobbie (and her Mum) were always such a joy, but one came with a lot of joy and a little surprise......
Bobbie was pregnant!
Now, the very best thing about a bespoke dress is that it is absolutely individual and made just for you. This meant we were able to adapt Bobbie's design to accommodate her growing bump.
(After all, now we were designing for two!)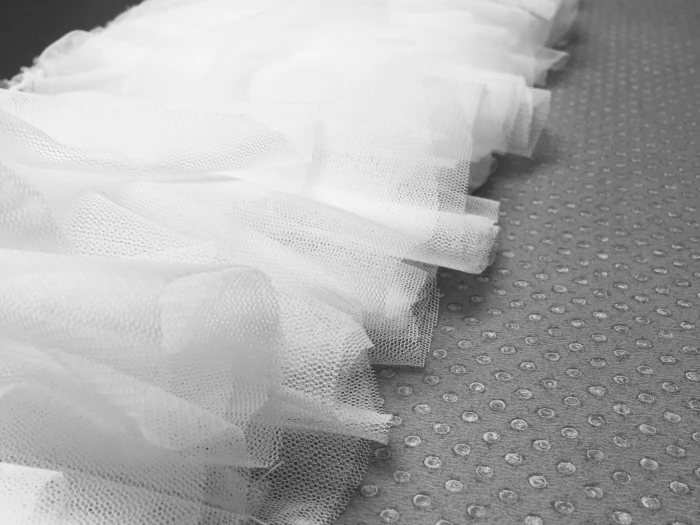 Skirt ruffle close up
We did away with most of the understructure so it would be more comfortable and provide a bit more room for our smallest newest client.
We also added straps and reshaped some of the frills and ruffles around the neckline. This maintained the dress's banging shape without the original corset.
The new 'on the shoulder' straps also worked really well with the existing 'off the shoulder' frills.
We were so glad to be able to deliver Bobbie her dream dress that showcased her and her bump.
What a stunner....