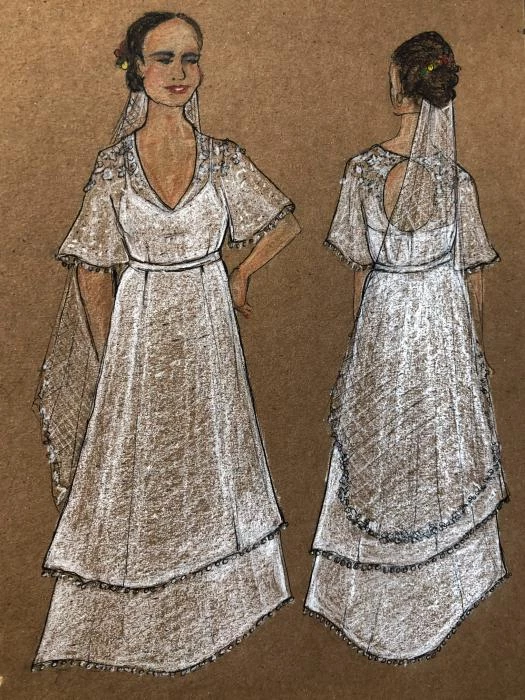 We were so excited back in March when Melissa first came to us with her plans for the perfect dress to suit her relaxed cool wedding in Mexico! She really liked our Stevie Dress but we wanted to make a few changes to make it perfect for her.Firstly we decided to change the skirt to two layers instead of three. Melissa is not super tall so we felt it suited her proportions better, giving her all the fun pom-pom drama she loved whilst making the main skirt section a longer more continuous line. Dropping the skirt detail to the hem also allowed us to add more detail on the bodice as it wasn't fighting with a busy skirt design.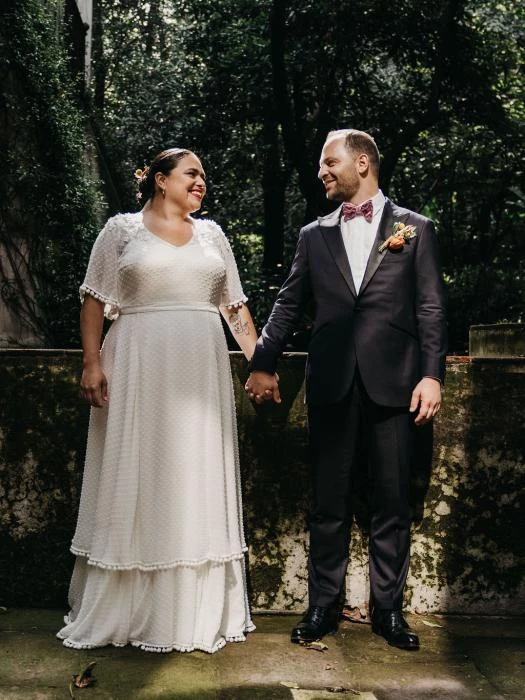 Melissa preferred the idea of sleeves instead of the cape so we redesigned the shape of the dress with that in mind but kept the pom-pom trim on the edge of the sleeves to compliment the skirt.When we first chatted through our ideas Melissa mentioned how much she liked our Cloudbusting cape so we really wanted to find a way of incorporating it into the design too.We decided to keep the main dress fabric the same as the Stevie but lifted individual flowers from the cape lace and appliquéd them onto the dress in a trailing pattern around neckline and sleeves.We'd adapted the original Stevie dress design to include a new keyhole shape that really suited Melissa and the lace flowers and leaves looked really pretty framing the shape at the back.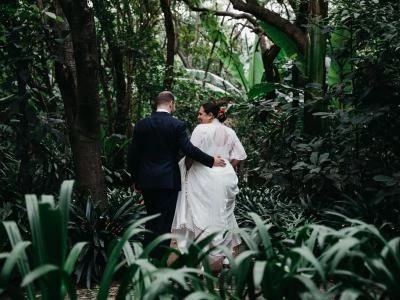 As the dress design developed Melissa decided to add a veil, it needed to be simple enough to work with the beautiful tropical flowers in her hair and not hide any of the back and shoulder detail of the dress but something special that would compliment the rest of the outfit. We went for a simple mid length veil on a comb with no decoration at the top, but appliquéd the same Cloudbusting lace flowers along the bottom edge fading out into little individual leaves and petals.
Melissa was so much fun to work with, we really enjoyed being part of her awesome day, and the photographs...so incredible and a bright gorgeous colour scheme to die for!Pass the celebratory tequila!