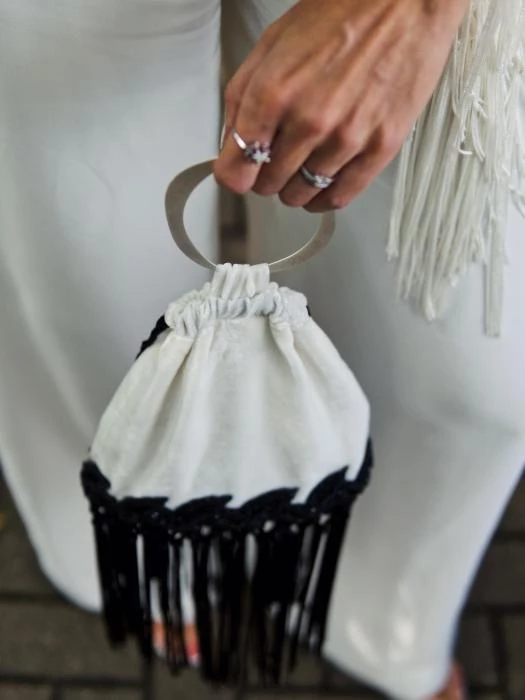 The regular advice to brides regarding your phone is not to have it with you on your wedding day. At the point you are actually preparing to walk down the aisle nobody should be considering you as the ideal point of contact for those last minute texts and questions. Whilst this is certainly true, you might still want access to your phone later on in the day or for other logistical reasons. Even if you forgo the phone entirely, there are other inevitable bits and bobs that will need to go somewhere; a lipstick, your speech, mints, somewhere to put those heavy earrings that are starting to hurt as the night goes on.
So what to do?
Some people opt for packing up a bag and then nominating a bridesmaid or similarly appropriate person to keep hold of it, but there are various reasons why this might not always be the ideal situation.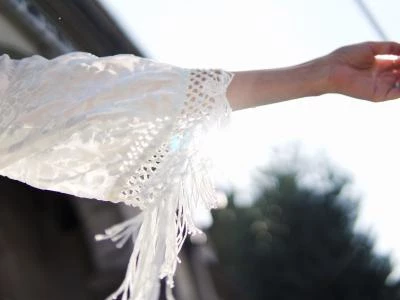 This was the exact dilemma Faye was faced with when she got married last summer. She decided she wanted a bag, big enough for her phone and some other bits but that still felt part of her look. For the design of the bag we took our inspiration from our Devore velvet kimono which Faye had already chosen to accompany her bespoke jumpsuit. The main body of the bag was made of luxurious ivory silk velvet. We trimmed it with fringe to mirror the detail of the kimono but instead of ivory we chose black. Faye was really keen on the monochrome style and liked the idea that the black and white colour scheme would make it more versatile for future post wedding use.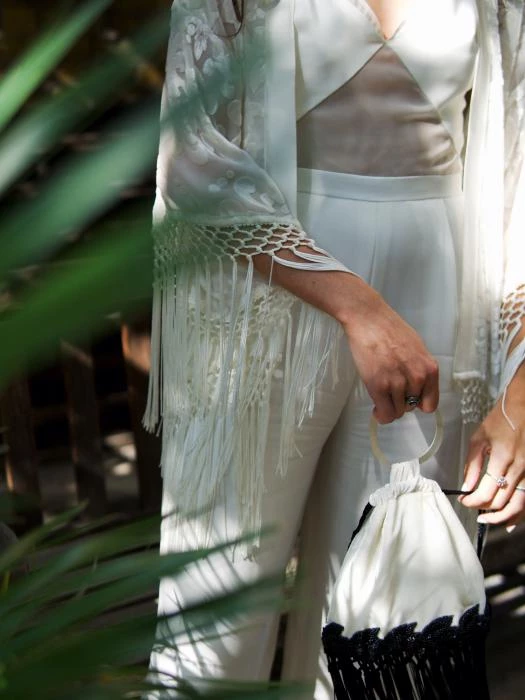 We still had the problem of the handle. Go for a cross body style and you run the risk of disrupting the look of the rest of the outfit. A clutch bag is cute until you're trying to hug a relative and carry a bouquet and hold a glass of champagne and eat a canapé at the same time!We are lucky to share with Faye a mutual friend and skilled jeweller, Dani ,of Retrospective Jewellery (linked below). We have collaborated in the past and jumped at the chance to involve her in this commission. She designed a bespoke bangle for Faye to act as the handle that we then stitched into the drawstring bag's fastening....a most stylish solution if ever there was one.
The result was super stylish, very wearable, fitted Faye's smartphone and had bags of potential (pun very much intended) for future wear!As a rule, people are generally pretty nice to you on your wedding day so if you need someone to hold on to a lipstick, chances are someone will surely oblige (just know the groom's suit is full of pockets he's not using!)