Starting a new bespoke wedding dress is always an exciting time at Paper to Lace but with Ruth it was an extra special honour for us as she's been a close friend of ours for many years.
We began as we often do by looking at pictures of dresses Ruth liked and talking about her inspirations and the atmosphere she wanted for her wedding day, we also treated ourselves to a fancy morning at Harrods for her to try some dresses on for shapes and ideas.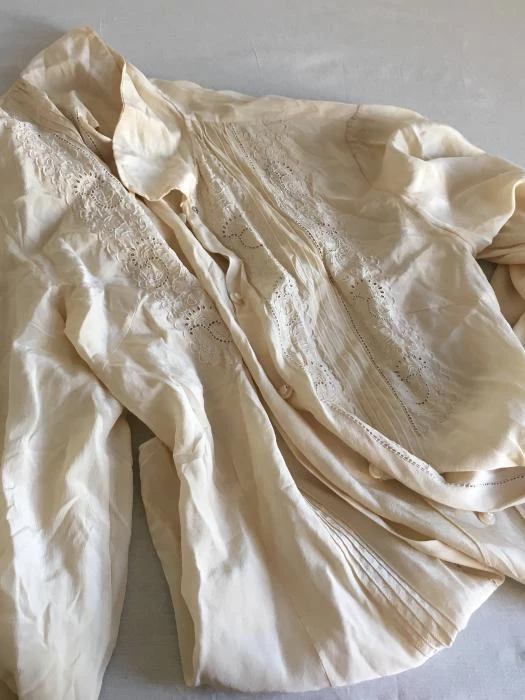 We'd done a variety of sketches but couldn't quite settle on the right thing. We decided to start on the dress toile to try and clarify what shape the dress should be and it was at this fitting that Ruth suggested a bit of a curveball. She produced from her bag a vintage blouse that once belonged to her great grandmother.
"Would it be mad to try and incorporate this....?"
As soon as we started working with the blouse as the centrepiece, the rest of the design began to fall into place.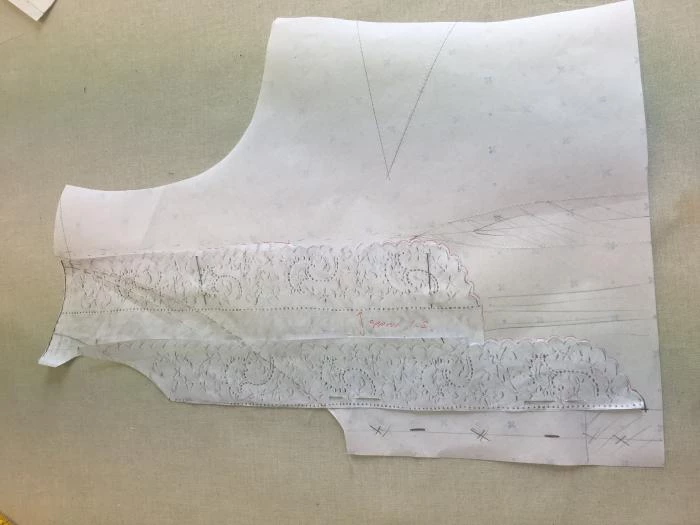 However it was not without its tricksy moments...
We knew we'd have to lift out the embroidered panels in order to reconstruct them into the new bodice shape and obviously with a vintage piece you only get one shot at it.
We photocopied the front of the blouse so we could work with the paper pattern to achieve the perfect fit, before (very nervously......) cutting into the real thing!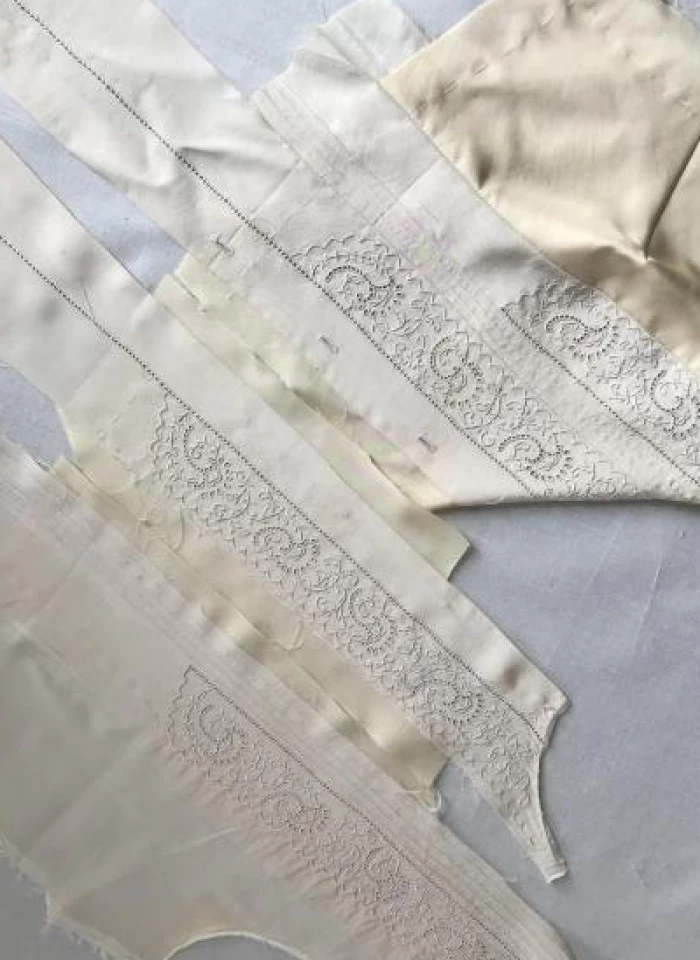 We only had enough blouse for a top so after quite a bit of searching we found a very similar fabric to the original to construct the rest of the dress. This is often a challenge when using vintage pieces as not only does the original fabric no longer exist it is also likely to have faded over time to a different shade to how it started anyway.
In order to draw the eye away from the slightly differing fabric tones we decided to introduce a third fabric for balance. We chose a satin in a similar buttery cream shade which we used on details around the bodice, and for the glamorous 1940's style godet panels inserted into the sweeping skirt.
Working to incorporate the blouse lead us to other design details we wouldn't have come to without it, which is what is so wonderful about this type of commission. We were able to separate the old cuffs and reapply them into the new voluminous bell sleeve design. The original collar though was surplus to requirements, but Ruth had loved the pockets on one of the first dresses she'd tried on, so we were able to split the collar into two new pocket flaps ......and who doesn't love a dress with pockets.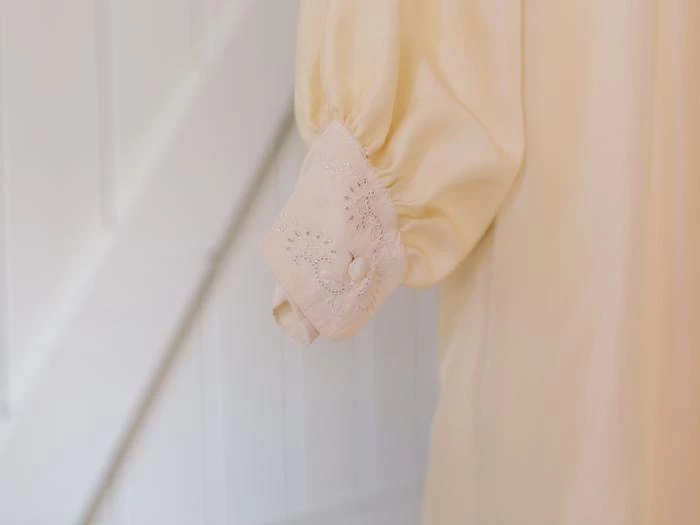 The whole process felt especially appropriate as historically Ruth had spent much of her time at university repurposing vintage and charity shop finds and 'borrowing' lots of clothes from her mums wardrobe every time she went back home, so it seemed only fitting that this would feature in her actual Wedding Dress!
We're so pleased with how the dress turned out, perfect for Ruth's beautiful and laid back wedding, full of vintage glamour to ensure she felt a million dollars yet relaxed enough that she could eat all the excellent wedding food and run around after her 3yr old!
And did we say.......it has pockets