Faye had an awesome idea for a bespoke wedding dress when she first asked us two years ago! But purely by chance she ended up finding something for so much of a bargain it was impossible to turn it down. We did some alterations for the fit and tweaked the silhouette slightly, but it was pretty much sorted.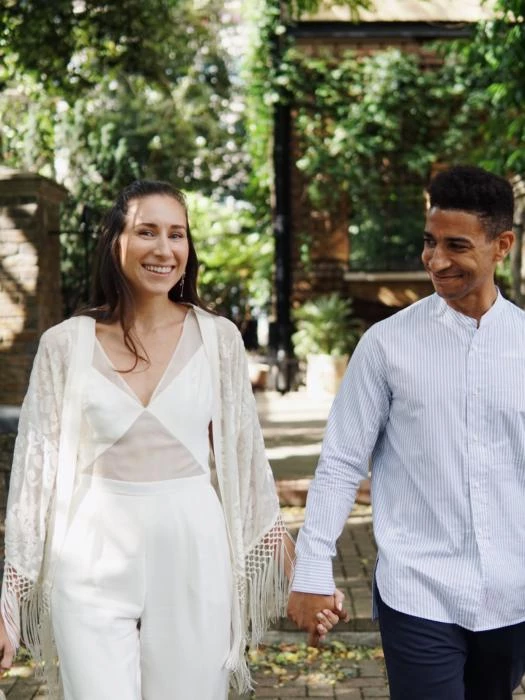 But it wasn't going to end there. We made her a nice veil, and a hat for her mum. She wanted a bag too so we designed one with her, and collaborated with long time friend and fellow creative, Danielle Underwood aka Retrospective Jewellery. But more on that later, that deserves an article of its own!
For their civil ceremony she wanted to wear a jumpsuit. So we got to work on designing one based on elements of a dress she had seen. We wouldn't wait to do this, we had always wanted to add a jumpsuit to our collection so this was the perfect win/win! Styles with the Devorè kimono from our collection, the fringed velvet bag and excellent jewellery from RJ, Faye had the chicest city outfit and all made of elements she could wear again and again!
Here it is in Faye's own words;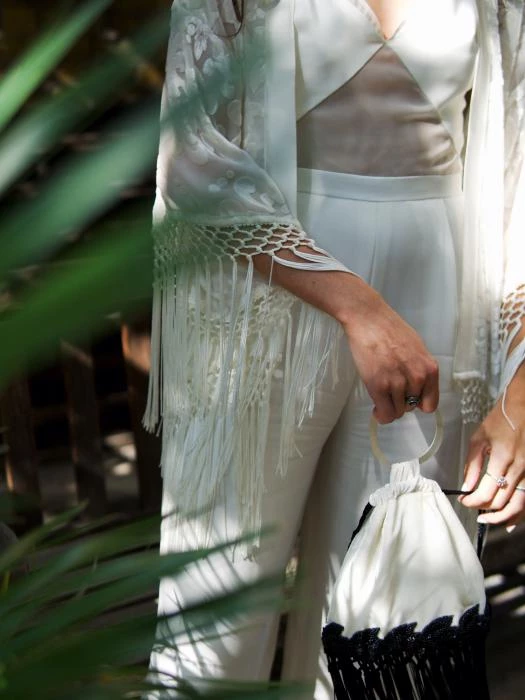 "About my inspiration for the look...
I wanted a second outfit for our legal ceremony at Tower Hamlets Registry Office. We organised for just our closest family to be with us on the day and so whilst I didn't want to look over dressed in East London I still wanted something that felt really special!
I had always loved the idea of wearing a jumpsuit to get married and Cristina and Becky loved this idea too! We developed a design that featured sheer panels and cross over straps at the top to balance out the wide leg trousers. I also HAD to have one of their amazing kimonos — and a white velvet Devore number with lots of fringing made the perfect cover up for strolling around Shoreditch after our ceremony! I also got it back out for our honeymoon in Sri Lanka."