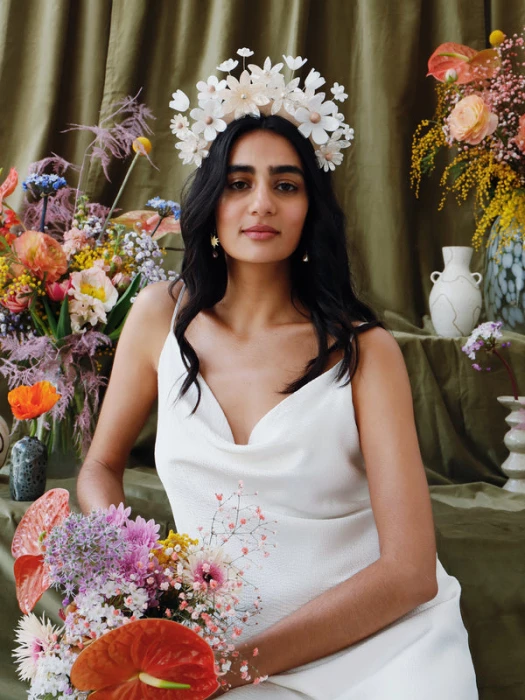 It was quite a serendipitous event, having our stand at Most Curious Wedding Fair directly opposite Wolf and Moon's stand last year. I can assure everyone concerned, we did not pay any bribes for this to happen. It was simply the stars aligning. We are both big fans of Wolf and Moon jewellery, each of us owning many pieces in our collections which often get brought along to our photoshoots to be styled alongside our wedding dresses. There is something about the contemporary and sometimes kitsch style of Wolf and Moon jewellery that just seems to work so well for bridalwear. So when Hannah Davis, founder and designer, designed a range of headpieces and hair accessories, we were beside ourselves. You can see for yourself in the images below they are magnificent. But there is something quite magical about putting one of those exquisite headpieces on in real life. They are utterly majestic. The craftsmanship is outstanding, if you look at the work that goes into making them it is very hard to not be impressed.
And there is something to be said for opting for a statement headpiece like that for your wedding look. We think you could go two different ways when styling pieces like these with your bridal outfit. The large headpieces are full of romantic drama, so you could either let them do the talking and keep your outfit clean and simple with a minimal slip dress and lace top combo. Or go all in and match drama with drama! The Cirrus Top with its organza puff sleeves is perfection.
If you are wanting to make less of a statement and go for something simpler but just as fun and beautiful, the smaller individual flowers are a great choice. They sit perfectly in an elegant chignon or pinned into softly styled waves. A lovely touch if you match your bridesmaids with them too!
The only choice you need to make next is whether to add a veil. The best thing about this is that you could have the veil for the ceremony as it pairs so well under the headpieces and will look stunning when walking down the aisle. And then you can change your look for later by removing the veil and keeping the headpiece. Ideal for partying, whether you are having a chic city wedding or festival wedding, a flower crown is fun, romantic and cool.
All photos by Hannah Davis, Wolf and Moon Founder.
Paper to Lace products:April Slip Dress in hammered silk satin
Cirrus Top in silk organza and silk dupion
Santorini Slip Dress in silk crepe
Polka Dot veil in embroidered tulle